ADRIÁN MADRID, KIMOA PHOTOGRAPHER
Meet Adrián Madrid, the photographer who has shaped Kimoa's campaigns.
-WHO IS ADRIÁN MADRID?
A small-town boy with a last name of a big city.
- WHAT DO YOU DO?
I am lucky to be a photographer and filmmaker, although the former more than the latter.
-HOW DID YOU START IN THE WORLD OF PHOTOGRAPHY?
Like the best things in life, unintentionally. It went through two roads. I was studying Fine Arts in Murcia and I applied for a scholarship in the drawing department. I ended up working in the laboratory of the Faculty, helping the boys of the first year to develop the films… of which I had no idea! So, the day before I would sit and study what we were going to do the next day.
On the other hand, that same year my father gave me a second-hand camera and I started to do my first steps. I used it as a paintings and illustrations aid because what I did was draw.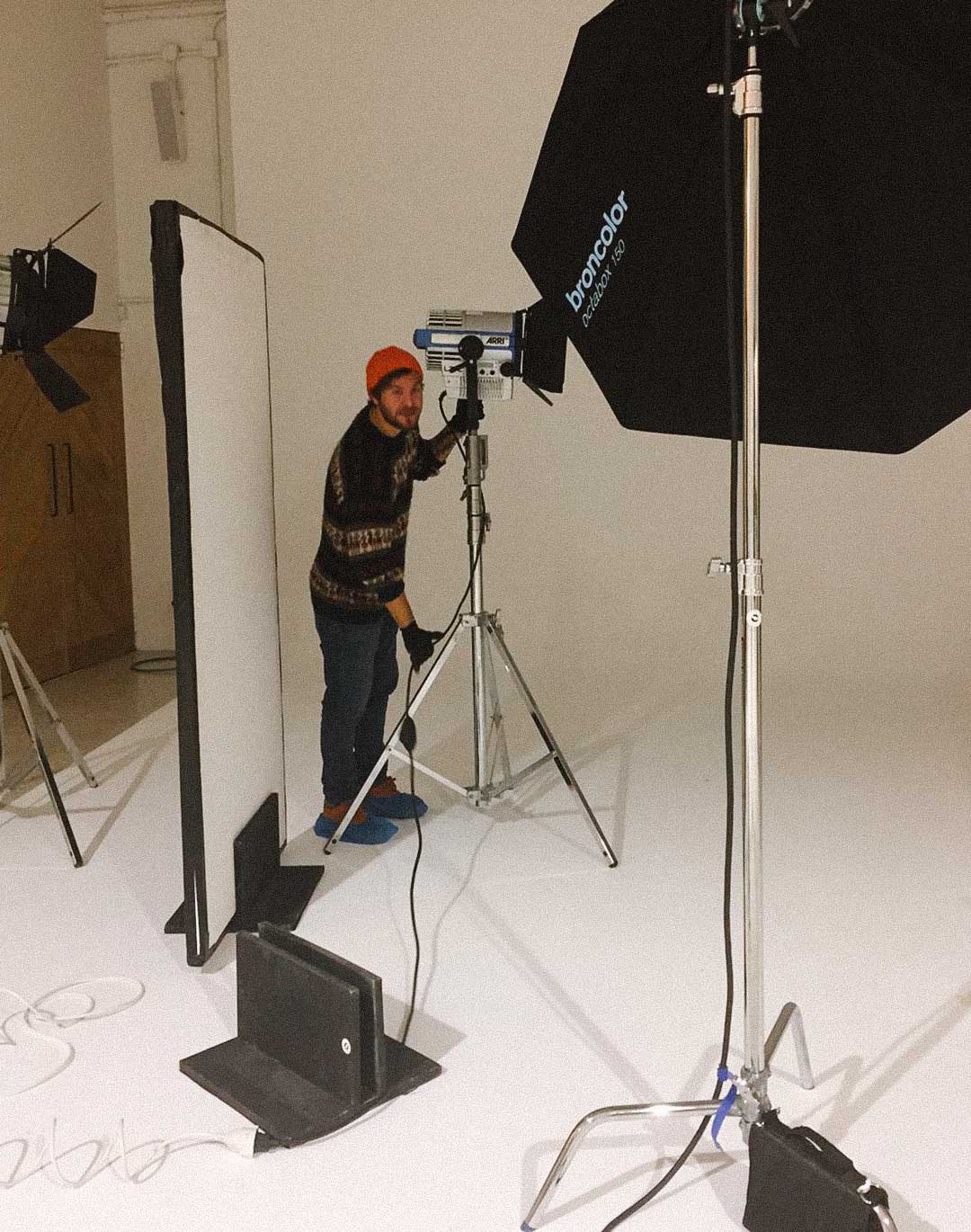 -WHAT ARE YOUR REFERENTS IN MATTER OF IMAGE?
I'm a bit strange because I've been getting references from here and there. I really like to notice how cinematographers do it, because they play a bit with everything: light, colors and frames. I quite like Christopher Doyle, who is the cinematographer of Wong Kar Wai and Roger Deakins, who is a genius, he has done almost all the Cohen films and they are super diverse, he is a chameleon.
Then, although a priori it is rare if you see my work, I am in love with the work of Ramón Masats and Carlos Saura. Although it has nothing to do with what I do, I pay a lot of attention to his way of composing and especially to what is behind his photos.
And current photographers obviously: Min Hyun Woo, Dudi Hansson or Gorka Postigo.
There is also a generation of young Spanish photographers who come very strong such as Pepe Lobez, Berta Pfirsich, Pablo Curto or Adriana Roslin who are happy to see what they do, who not only inspire me but make me try a little more every day to reach where they have arrived.
-WHAT DO YOU LIKE MOST ABOUT THE FASHION UNIVERSE?
That everything is in constant motion and forces me to move so as not to be left behind. I like not to get bored.
And that I travel.
-HOW DO YOU PREPARE EACH SHOOTING?
First, I talk to the client and try to find out what they want to convey, what they have based the collection on or what they would like to tell.
Depending on what you tell me, I choose from my personal references that are usually always something that makes me get into the "mood" and take it a bit to my field. Among those references plus those that have been able to give me added to the story that I have imagined, I prepare a mood board.
I usually like this part. In fact, and if possible (if I have been able to locate, for example) and I have time, I try to define all the locations and situations like what I am going to pose on the mood board so that in the shooting I can go to fixed shot. You can improvise some photos on the fly, but it is better for my head to be clear.
When I have it very closed, I choose the photographic material (camera, lenses, flashes ...) that I am going to need and so, "palante" ("let's go").
-HOW DID YOU KNOW KIMOA?
Well, almost from day 1, thanks to Leticia Escudero, your colleague with whom I had worked on another project. Thank you very much Leti!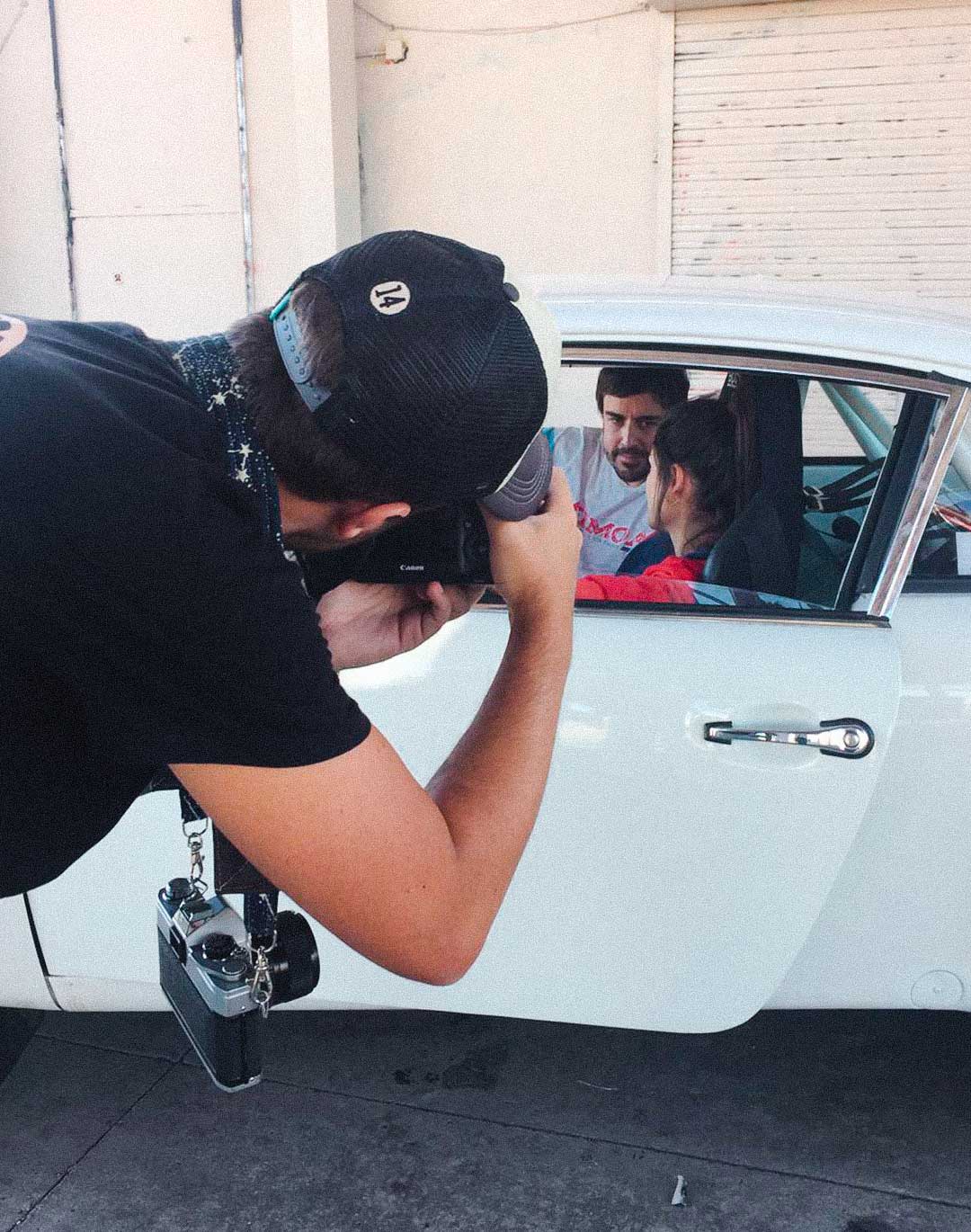 -WHAT HAVE YOUR WORKS BEEN FOR THE BRAND?
I started doing some loose thing for networks, but the fat came in the Spring Summer 2018 campaign, which we went to Almería. From there, Madrid a couple of times, Gran Canarias, I have been lucky enough to take Racing photos on two occasions with Fernando Alonso...
Now that I think about it, quite a few :D
-YOUR BEST EXPERIENCE FROM THE HAND OF THE BRAND?
Being selfish, the day I met Fernando Alonso I have it in my hearth because I've always been a fan. My uncle is a great fan of the motor, he has gone to see Senna, Prost, Schumacher ... When Fernando started, we watched the races on Sundays at my grandmother's house, and now having him so closer, boom, "Magic".
But perhaps as an experience, I loved being part of the collaboration with Mission Blue. It is a subject that touches me very closely because I am from a coastal town that has a marine reserve and being able to do my bit made me feel good.
In general, it is fortunate when you fall into a group of people who appreciate you and with whom to work it turns into many things, as if it were not a job, Jess, Mayte, Alberto. That is the experience that I take with me.
-YOUR MOST FUNNY MEMORY?
Uh, in the Canary Islands there are undoubtedly a few. It cannot be counted without alluding to anyone.
But there is a passport, an anorak, a van, and a lollipop mixed up.
-THE MOST COMPLEX PRODUCTION
Without a doubt the first, that of Almería. Perhaps it has been the collection that the brand has had the most product? DID IT RAIN IN ALMERÍA IN THE DESERT? Was there like 5 degrees? Hell wind? We were only missing zombies.
I think it was very complex and the truth is I am proud that we carried out the work with some photos that I see, and I still like them.
-THE BRAND PRODUCTS WITH WHICH YOU MOST IDENTIFY YOURSELF
Everything from Racing. Big ball. The first one, I actually love the design, the colors.
-WHAT WOULD YOU LOVE TO PRODUCE FOR THE FIRM?
I have it very clear. A Nascar team style jacket, with their embroidered sponsor logos and more. They are the best and maybe in F1 you don't see so much but I think it would be a good piece.
Or a collaboration with Carlos Sainz for the Dakar where I also take the photos.
If I can dare to dream, of course!