SPRING SUMMER COLLECTION 22
Inspired by the Miami streets, culture, colors, and lifestyle.
Kimoa's SS22 collection is inspired by Miami, a city we chose to open our first store and second home of the firm. A collection full of color and responsible towards the environment thanks to the chosen materials, which are full of details.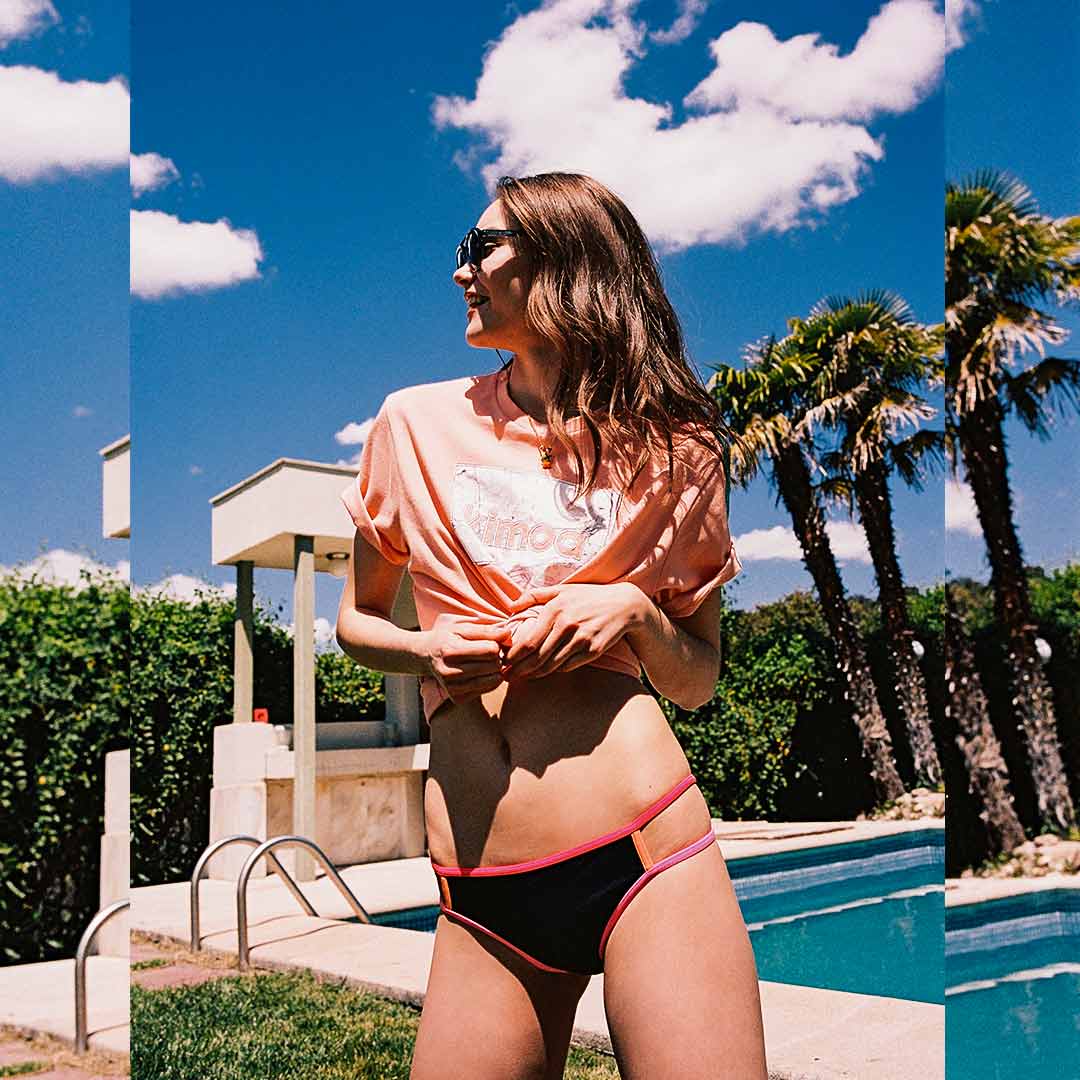 SHINE T-SHIRT AND SWEATSHIRT
In an intense blue color with green, white and yellow bands, from the neck to the end of the sleeve on both shoulders, and a front print with the logo and puff-print technique as well as the phrase "Less plastic, more t-shirts", one of the new house slogans.
REFRESH T-SHIRT AND SWEATSHIRT
Both in white and logo on the chest in the shape of a green, yellow, coral, and pastel blue circle in puff print and embroidered Kimoa in the center. A puff print with ice cream on the back and the phrase "This T-shirt is a fresh start for ancient plastic bottles."
PARADISE DUALITY T-SHIRT AND SUNSET DUALITY SWEATSHIRT
A highlighted combination of white and gray, along with the Kimoa logo embroidered on the chest, within the blue shield a setting sun is represented along with the phrase "Hotel Paradise".
Both are versions of the same style to wear together or separately.
HOTEL PARADISE T-SHIRT
In yellow with the Kimoa logo printed on the chest in purple, coral and Kimoa green. More details on the back thanks to the "Kimoa Hotel Paradise" logo.
One of the pieces that, without a doubt, best represents this collection.
BLUE REEF T-SHIRT
In an intense water green color, it has a pocket on the chest next to the Kimoa logo printed in white with the phrase "Conscious Change Era".
MAP T-SHIRT
It stands out for its coral color and the graphic of an old map of Florida printed on superimposed white fabric and applied with gray stitching, as well as the Kimoa logo in the center of the map.
CONSCIOUS T-SHIRT AND CONSCIOUS LOGO T-SHIRT
The first, in white and graphic on the chest with the phrase "Conscious Changes Era" in superimposed letters in coral and aqua green. The second, also in white and with a graphic of the Kimoa logo and the phrase "Sustainable & Timeless fashion" in blue and light blue. Both pieces were chosen to be the first release of such a wide collection.
MIAMI CORAL and MIAMI BLUE POLO
A novel garment style for Kimoa are these two polo shirts where the horizontal bands that combine different colors as well as prints and embroidery stand out.
A collection that will please all types and styles of friends of the firm.